Friday, May 18, 2012 at 3:17PM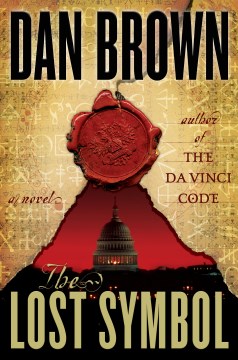 from NoveList Plus Brown, D. (2009). The lost symbol. New York: Doubleday.
ISBN: 9780385504225
Rating: 3Q4P
Readers' Annotation: Robert Langdon, symbologist, is requested to give a lecture in DC. by an old friend, only things aren't as they appear.
Summary: Robert Langdon's old friend, Peter Solomon, requests he give a speech at the United States Capital Building. He even sends a private jet to pick Robert up in Boston. Little does Robert know, this is all set-up by a man seeking the Mason's Pyramid which is said to be hidden beneath the city of Washington, DC. Soon after Robert's arrival at the capital he realizes Peter did not summon him and he must figure out centuries old puzzles to save Peter, his friend and mentor.
Evaluation: Dan Brown's follow-up to The Da Vinci Code intrigued me more then The Da Vinci Code and Angels and Demons merely because it is set in Washington, DC. For readers unfamiliar with the previous two Robert Langdon novels The Lost Symbol is still accessible with only a couple references to the events of the previous novels. Readers may be overwhelmed with the amount of characters to keep track of while reading. Brown also gets bogged down the explanation regarding the Free Mason lore and Noetic Science. Overall, I enjoyed the book and would suggest it to readers who like a bit of history in their suspense novels.
Genre:
Suspense
Adventure - Cipher Thrillers
Series: Rober Landon Novels
Angels and Demons (2000)
The Da Vinci Code (2003)
The Lost Symbol (2009)
If you liked The Lost Symbol try...
The Librarian by Larry Beinhart
The Templar Legacy by Steve Berry
The Rule of Four by Ian Caldwell and Dustin Thomason
The Price of Liberty by Keir Graff
The Book of Spies by Gayle Lynds
The Inner Circle by Brad Meltzer
Labyrinth by Kate Mosse
Sandstorm by James Rollins
The Blackbird Papers by Ian Smith
Angelology by Danielle Trussoni
Download the If you liked The Lost Symbol bookmark [PDF], compiled by Becky Rech
Becky
|
Post a Comment
|
in
sjsu220
Email Article to Friend