Saturday, May 19, 2012 at 4:44PM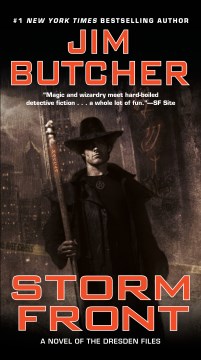 from NoveList PlusButcher, J. (2000). Storm front. New York: Roc.
ISBN: 9780451457813
Rating: 3Q3P
Readers' Annotation: Harry Dresden, a wizard, consults with the police on a gruesome, double murder.
Summary: Harry Dresden is a wizard for hire. There are some things he won't do and others he can't. Harry is strapped for cash and takes on Monica's request to find her husband with some hesitation because her husband had been experimenting as a wizard. The same day the Chicago P.D. has requested his assistance on a gruesome double murder that could only have been done with magic. When it rains it pours, now Harry must balance the separate cases and expectations.
Evaluation: A unique private detective, Harry Dresden, will surprise readers with his dark sense of humor. Fans of straight up mysteries will enjoy Storm Front even with the fantastical lean. Butcher has created a strong and likable character in Harry Dresden.
Genre:
Fantasy - Supernatural
Fantasy - Urban

Mystery
Series: Dresden Files
Storm Front (2000)
Full Moon (2001)
Grave Peril (2001)
Summer Knight (2002)
Death Masks (2003)
Blood Rites (2004)
Dead Beat (2005)

Proven Guilty (2006)

White Night (2007)
Small Favor (2008)
Turn Coat (2009)
Changes (2010)
Ghost Story (2011)
Related: Backup (2008); Side Jobs (2010)
Becky
|
Post a Comment
|
in
sjsu220
tagged
fantasy,
mystery,
series,
supernatural
Email Article to Friend