Saturday, May 19, 2012 at 7:47PM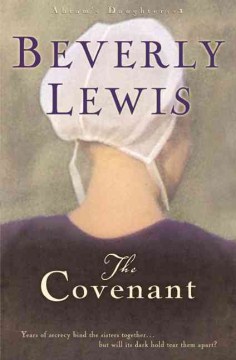 from NoveList PlusLewis, B. (2002). The covenant. Minneapolis, MN: Bethany House Publishers.
ISBN: 9780764227172
Rating: 3Q3P
Readers' Annotation: Leah must keep her sister's secret, but at what cost.
Summary: Fifteen-year-old Leah, is the second daughter of Abram Ebersol. She shares her room and bed with her older sister, Sadie, who has been spending late nights out with a fancy boy. The Ebersols are Amish and Sadie should be settling down and accepting the courting of a nice Amish boy. Instead, her boyfriend is English and trouble. Sadie is torn between telling her parents of Sadie's late night escapes and keeping confidence wither sister. Leah soon starts going to Sunday Singings and being courted by her second cousin, Jonas. Since they were little, Leah and Jonas have known that they were meant for each other. Now, they just have to convince Abram and get through a year of courting then they can marry, that is if everything goes as planned.
Evaluation: There was nothing spectacular about The Covenant, but I was compelled to read on and see how Sadie and Leah's life turned out. I think I would have appreciated more distinction between narrators. Lewis seemed to jump between narrators, and I would find myself having to reread to figure out whose thoughts I was currently reading. I liked having the alternating perspectives of the characters especially Ida and Abram's thoughts on their daughters.
Genre:
Series: Abram's Daughters
The Covenant (2002)
The Betrayal (2003)
The Sacrafice (2004)
The Prodigal (2004)
The Revelation (2005)
Other Series by Beverly Lewis
Home to Hickory Hollow - start with The Fiddler
Rose Trilogy - start with The Thorn
Seasons of Grace - start with The Secret
Courtship of Nellie Fisher - start with The Parting
Becky
|
Post a Comment
|
in
sjsu220
tagged
Amish,
Christian Fiction
Email Article to Friend