Entries in supernatural (3)
Saturday, May 19, 2012 at 4:44PM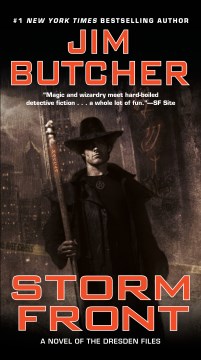 from NoveList PlusButcher, J. (2000). Storm front. New York: Roc.
ISBN: 9780451457813
Rating: 3Q3P
Readers' Annotation: Harry Dresden, a wizard, consults with the police on a gruesome, double murder.
Summary: Harry Dresden is a wizard for hire. There are some things he won't do and others he can't. Harry is strapped for cash and takes on Monica's request to find her husband with some hesitation because her husband had been experimenting as a wizard. The same day the Chicago P.D. has requested his assistance on a gruesome double murder that could only have been done with magic. When it rains it pours, now Harry must balance the separate cases and expectations.
Evaluation: A unique private detective, Harry Dresden, will surprise readers with his dark sense of humor. Fans of straight up mysteries will enjoy Storm Front even with the fantastical lean. Butcher has created a strong and likable character in Harry Dresden.
Genre:
Fantasy - Supernatural
Fantasy - Urban

Mystery
Series: Dresden Files
Storm Front (2000)
Full Moon (2001)
Grave Peril (2001)
Summer Knight (2002)
Death Masks (2003)
Blood Rites (2004)
Dead Beat (2005)

Proven Guilty (2006)

White Night (2007)
Small Favor (2008)
Turn Coat (2009)
Changes (2010)
Ghost Story (2011)
Related: Backup (2008); Side Jobs (2010)
tagged
fantasy,
mystery,
series,
supernatural
Saturday, May 19, 2012 at 1:52PM
from NoveList PlusGrahame-Smith, S. (2010). Abraham Lincoln: vampire hunter. New York: Grand Central.
ISBN: 9780446563086
Rating: 3Q3P
Readers' Annotation: Abraham Lincoln's secret life as a vampire hunter is revealed.
Summary: The story begins during present time, with an unsuccessful writer given the gift of a lifetime--the secret, personal journals of Abraham Lincoln, Vampire Hunter. Early in Lincoln's life, he realizes the bad things that have occured can be traced back to a vampire. He vows to kill all the vampires in the country. On his quest Lincoln encounters a vampire, Henry, that has a similar goal--to kill vampires. Like humans, there are good vampires as well as bad. Henry shares the weaknesses of vampires with Lincoln to train him to overcome the vampires' excessive strength. Lincoln remains true to his vow until he has a family, but he is drawn back into vampire hunting when the tensions between the North and South heat up.
Evaluation: Seth Grahame-Smith weaves together the real life of Abraham Lincoln with Graham-Smith's imagined one flawlessly. On more then one occassion, I had to remind myself I was reading a work of fiction. The author's writing style reinforced the feeling of a non-fiction book. I appreciated how much fact Graham-Smith intertwined within the fiction. Readers who weren't interested in the life Abraham Lincoln prior to reading this book may be inspired to read more on the real man. I think this book will draw historical fiction fans that want something a bit different as well as those drawn to the supernatural elements.
Genre:
Fantasy - Supernatural
Horror - Supernatural
Historical Fiction - Alternative History
If you like Abaham Lincoln: Vampire Hunter try...
Pride and Prejudice and Zombies by Seth Grahame-Smith
The Secret History of Elizabeth Tudor, Vampire Slayer by Lucy Weston
The Stake by Richard

Laymon
Friday, May 18, 2012 at 2:14PM
from NoveList PlusHill, J. (2007). Heart-shaped box. New York: William Morrow.
ISBN: 9780061147937
Rating: 3Q3P
Readers' Annotation: Rock star, Judas Coyne, buys a ghost over the Internet.
Summary: Heavy metal rock star, Judas Coyne likes to collect weird things. His assistant finds a ghost that is available for purchase online. The ghost arrives in a heart-shaped box with a suit in it. With that purchase, Judas makes one of the biggest mistakes of his life. The ghost torments Judas and the people he cares about relentlessly, driving him to abandon his house in hopes of out running the ghost that now belongs to him.
Evaluation: As an adult, I haven't read horror fiction; I can't say that Heart-Shaped Box made me want to change that behavior. I thought it was well written, but I can't seem to suspend belief long enough to get into it enough to get scared and feel the emotions of the characters. The main issue I had with this novel is that the ending seemed to be too neat and tidy for the chaos that was the book. It had a happy ending, which I am usually all for, but for this book it just didn't seem to fit.
Genre:
If you like Heart-Shaped Box try...
Mister B. Gone by Clive Barker
Horns by Joe Hill
Bag of Bones by Stephen King
tagged
horror,
supernatural