Entries in western (1)
Saturday, May 19, 2012 at 1:24PM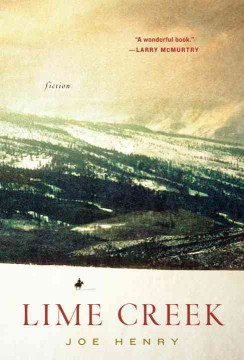 from NoveList PlusHenry, J. (2011). Lime Creek. New York: Random House.
ISBN: 9781400069415
Rating: 4Q2P
Readers' Annotation: Spencer Davis and his family work the land of Wyoming.
Summary: Spencer Davis grew up in Wyoming where he meets his wife Elizabeth who is visiting on a family vacation. Spencer moves east for school to be closer to Elizabeth. Eventually they return to Wyoming where they raise their three sons.
Evaluation: A sparce and haunting story of the men of the Davis family. Readers will be left wanting more; however, they will be strangely satisfied. It is the story of a love for one another and the land they work to survive. I was surprised at how much I enjoyed this book. The author did an amazing job conveying emotion and a strong sense of setting with out using a lot of words.
Genre:
Western
Historical Fiction
Becky
|
Post a Comment
|
in
sjsu220
tagged
historical fiction,
western